Brown alga Kelp – The power of the sea in pure form
The brown algae kelp (Laminaria japonica aresch) and other brown algae species have not yet revealed all their secrets. For centuries they have been used by humans and animals as a food source.
Kelp is found almost everywhere in the temperate or cold zones of the oceans. But there are also brown algae that thrive in fresh water.
If you've ever taken a beach vacation in these climates, you're probably familiar with kelp from its leaves, which are torn off during storms and occasionally wash up on the beach.
Kelp, brown alga with natural iodine
With our kelp capsules, which are 100% suitable for vegans, you can get the power of the sea in pure form at home.
The plant parts of the kelp algae contain various valuable ingredients – from minerals to iodine to alginates.
After harvesting in the waters of Norway, the kelp is dried and gently processed until only the desired ingredients are still contained.
Seaweed is not suitable for children under twelve years of age, pregnant women, nursing mothers and people with iodine hypersensitivity.
Our kelp capsules are free of lactose and gluten and contain no colorants or flavorings.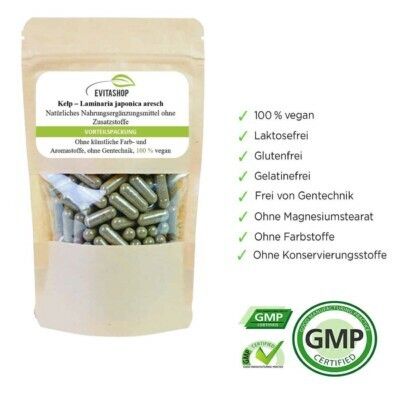 FAQ about brown algae capsules / kelp capsules
What is Kelp?
Kelp is a type of brown algae that is common in the cold waters of the Nordic oceans. The name Kelp comes from the English language and means something like "seaweed".
The brown alga forms under water whole underwater forests, in which it teems only so with life.
Due to its high iodine content, kelp is considered an ideal food supplement for a natural iodine intake.
How much iodine is contained in the kelp capsules from Evitashop?
Our kelp products rely exclusively on natural iodine. The iodine does not come from the laboratory, but is naturally contained in our brown algae capsules.
As with all natural products, the iodine content of our algae capsules is subject to natural variations.
The recommended intake is one capsule per day, which covers most of a person's daily iodine requirements.
The indicated consumption quantity may not be exceeded.
What are the advantages of buying brown algae capsules??
Customers who buy our brown algae capsules benefit several times over from their purchase.
Brown algae not only contain various vital and mineral substances, but also iodine in particular, which contributes to a natural iodine supply.
Our brown algae capsules contain 100 % of the pure natural product, without fillers, colorants or flavorings.
Are kelp capsules from Evitashop suitable for vegans?
Yes, our kelp capsules are also suitable for vegans. Our capsule shells are made of pure vegetable cellulose without gelatin or animal ingredients.